Garden of Lights Donates To Employee Charities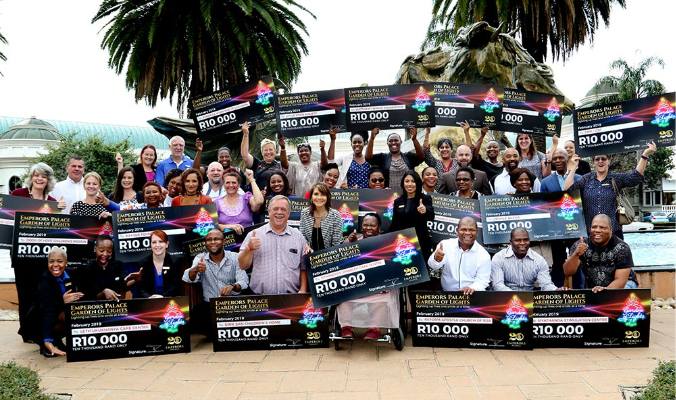 Thursday, February 7, 2019
February is the month of love and Peermont's Emperors Palace is spreading a lot of love by giving away a staggering R1.3-million to a host of worthy causes.
Among the first charitable organizations to benefit from the East Rand resort and casino's generosity is the Sithabile Child & Youth Care Centre and Reform Apostle Church of RSA, both in Benoni, the Dirk San Children's Home, Urban Ruins, both in Boksburg, Little Eden Society for the Care of Persons with Mental Handicap in Edenvale, Life Link Pregnancy Crisis Centre, Operation Anti-Freeze and the Phethahatso Foundation, all in Kempton Park, the Door of Hope Children's Mission in Glen Vista, Sithandiwe Disabled Care in Lombardy East, CMR/CSC (Daspoort Branch), Ithembelihle LSEN School in Primrose, the Matthew Ukhozi Foundation in Reiger Park, The Kayser Foundation (JPK) in Westbury, the Korekile Home For Cerebral Palsy Children in Westonaria, the Siyathanda Stimulation Centre for the Disabled in Daveyton, Ubuhle Bezwe and the Tembisa Child and Family Welfare Society, both in Tembisa, Leth'ukukhanya Care Centre in Brakpan and Beanies, Booties and Blankets.
These 20 charities were selected by 20 Emperors Palace staff members to benefit from proceeds raised during the Garden of Lights as part of the entertainment mecca's 20th birthday celebrations. Here the representatives from the selected organisations are pictured, with the staff and management involved in the endeavour, after presented with a cheque of R10 000 each at the Palace of Dreams on Thursday morning, February 7. A further R350 000 each was given to the Peermont Education Trust and the Peermont Children's Trust the same day while another R400 000 will be given to the Reach for a Dream Foundation.