Khoroni Invests in Community Infrastructure
New Vondo Bridge will provide convenient passage to learners across the Mutshundudi River
Thohoyandou, Limpopo Province – Peermont's Khoroni Hotel Casino Convention Resort, along with the South African Forestry Company Limited (SAFCOL) are pleased to announce the successful completion of a significant community project—the construction of a new footbridge for the community of Vondo, within the Thulamela Municipality, near Thohoyandou, Limpopo Province.
The community of Vondo had long grappled with the inconvenience of a makeshift bridge, which was situated near the Thathe Vondo forests, spanning the Mushunduzi River. Over time this makeshift structure had put was no longer a viable crossing option. Recognizing the urgent need for a more reliable bridge, SAFCOL and Khoroni Hotel Casino Convention Resort joined forces to address this critical issue.
The new footbridge, constructed with treated timber, ensures effective passage for learners crossing the river to and from school – especially in the rainy season. 'The community could not wait for the municipality anymore as they were not sure when, or if, it would come aboard. We will soon be experiencing rainy weather and we cannot afford to lose lives in this river,'  says community leader Simon Nevondo, spokesperson for the local traditional leaders. Khoroni joined the cause after the community had been desperately trying to get funding from the municipality since July, but was told that no budget was available yet for the bridge.
Back in 2022, residents of Vondo village initiated the construction of a footbridge across the Mutshundudi River and had raised R135 000 to start, but needed additional funds to complete the project, thus appealing for donations from investors. That's when Khoroni stepped forward and invested R160 000 to assist with the bridge's construction and completion after seeing the urgency within the community.
'This collaborative effort is a shining example of the positive impact of corporate social responsibility initiatives on local communities. It demonstrates what can be achieved through partnerships between public and private entities,' says Khoroni General Manager Martha Sidebi.  The completion of this bridge will now not only provide convenient passage for learners on their way to school, but will also grant the community access to the R523 road to Thohoyandou.
The bridge was officially unveiled on 19 October 2023. Key features of the footbridge include its sturdy and durable construction, a non-slip walking surface, and an aesthetically pleasing design with accessibility in mind to accommodate all community members.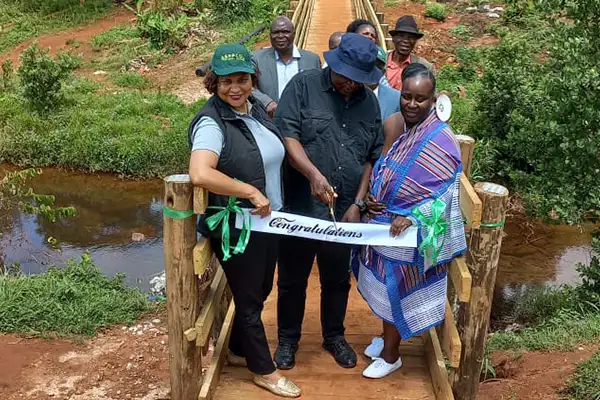 PICTURED ABOVE (FRONT):
Ms Hazel Banda, SAFCOL General Manager Transformation and ED, Vhamusanda Vho Muonyolosi Budeli, Chairperson Tshivhase Royal Council and Martha Sidebi, Khoroni General Manager