Peermont Invests Over R300 000 In Local Community Radio Station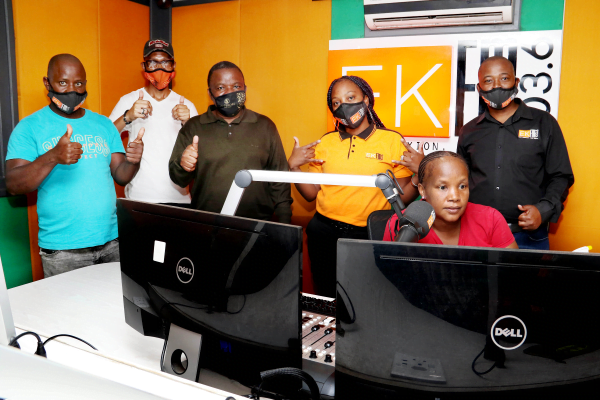 In a move to empower local businesses in the Ekurhuleni region, the Ekurhuleni Peermont Chambers of Commerce Trust (EPCoCT) granted EKasi FM 103.6 (EKFM 103.6) funding to the amount of R339 891, which will be used to support the station in migrating from analogue to digital broadcast through the use of more specialised studio equipment and component parts. Located in Tsakane, which is the local area for Peermont's flagship resort, Emperors Palace, the station employs 40 people who are learning the trade and broadcasting to the greater Ekurhuleni region.
'EKFM approached the Trust with a very compelling business plan for the Trust to get involved in helping the station by sponsoring much-needed equipment,' says Makomane Ntabo, Trust Administrator at Peermont. 'It was and continues to be our absolute privilege and pleasure to be able to help members of the local communities we operate within through financial investment, support, advice and encouragement.'
EKFM 103.6 is a 24-hour station based at Faranani Multi-Purpose Centre in Tsakane. The community radio station serves Tsakane, Duduza, Kwa-Thema and surrounding areas, broadcasting in major languages most prevalent in the catchment areas, such as isiZulu, isiXhosa, isiSotho and English. EK FM 103.6 prioritises information, education, entertainment and development of the previously disadvantaged communities by empowering them with knowledge and opportunities.
Velli Nxumalo, Station Manager at EKFM 103.6 says, 'The migration from analogue to digital broadcasting will help the station to increase its listenership and revenue. The new equipment will enable the station to reach the entire geographic area our station targets, unlike as the old equipment which was of inferior quality, resulting in poor transmission.'
With the recent effect of COVID-19, the power of broadcasting has come to the forefront and EKFM 103.6 are pioneering a new generation of broadcasters. 'The Peermont Trust's investment in EKFM is a best practice model of how we, as a funder can encourage and support the growth of small businesses in the Ekurhuleni region and empower the youth to follow their dreams,' says Ntabo.
Emperors Palace is a Peermont resort. Visit www.emperorspalace.com and connect with us on Facebook, Twitter, Instagram, LinkedIn and YouTube.
Pictured is Trust Administrator, Makomane Ntabo (third left) with EKFM's Winter Madisha (Music Manager), Vusi Coka (HR and Admin Manager), Phumzile Mashele (Finance Manager), Velly Nxumlo (Station Manager) and Midmorning Show presenter, Malebo Mathibela (seated)