The Peermont Emperors Palace Charity Mile - Racing For Charity 2020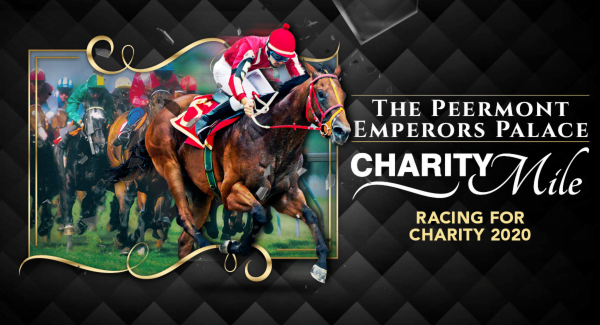 Tuesday, October 13, 2020
With many events not happening this year due to COVID-19, the horse racing fraternity breathed a sigh of relief when the annual Peermont Emperors Palace Charity Mile was announced for 31 October 2020. With lockdown restrictions eased to Level 1 by the presidency in September, sporting events like horse racing have been given the green light, however, like with many other sports, there will be no spectators in attendance.
Dubbed Racing for Charity 2020, Peermont Emperors Palace Charity Mile once again has
R1 Million is up for grabs between 16 deserving charities, who are represented by local celebrities and personalities. Each celebrity will then be allocated a horse in the race, and the winner receives the top prize of R150 000 for their allocated charity.
'This year, more than ever, it's all about the charities,' says Emperors Palace Complex General Manager Clive Tavener. 'COVID-19 has had a devastating impact and we are very relieved that we could continue with this year's Charity mile and provide assistance to some very worthy charities.'
The race takes place at Turffontein in Johannesburg and will be televised live on Tellytrack on DSTV. Of the R1 Million prize pool up for grabs, the winning charity receives a cheque for R150 000, second place R100 000 and the remaining 14 charities receiving proportionate amounts of the total depending on their allocated horses' overall placement.
'This is the 13th year that we've partnered with Emperors Palace on this event,' says Patrick Davis of Pumelela Gaming. 'The charity Mile is not only a highlight in the racing calendar, but a way to give back to charities that make such a vital change in the local communities, especially after the devastation to our economy by the Corona Virus.'
The charities for the 2020 include Star Schools in Springs and Vosloorus, Peermont's Lesedi Programme (training learners in plumbing, electrical, air conditioning and carpentry), Peermont's Education Trust Bursaries for Engineering and Accounting, Masinga Embroiderers and Crafters, and Tembisa Print (under Emperors Palace Chambers of Commerce Trust), the Titans Sky Blues Trust, Animal Allies Rescue, Animal Anti-Cruelty League, the National Horse Trust and the Highveld Horse Care Unit.
Various local celebrities will represent these charities and their pairings will be determined at the Barrier Draw happening on Tuesday, 27 October. The draw will determine which horse, celebrity and charity are matched for the big day. Confirmed celebrities include Kevin Lerena, Brian Mitchell, Zahara, Shampoonaiza, Judith Sephuma, Lucky Lekgwathi, Neil Andrews and Itumeleng Bokabaand can all be followed on their respective social media channels.
Event details:
Date:       Saturday, 31 October 2020
Venue:      Turffontein Racecourse
Time:       From 10h00, live on Tellytrack
Emperors Palace is a Peermont Resort. For more information, visit www.emperorspalace.com or contact 011 928 1000. Connect with Emperors Palace on Facebook at www.facebook.com/EmperorsPalaceResort, Instagram at http://www.instagram.com/emperors_palace, and follow us on Twitter @emperorspalace to stay up to date with the latest events and entertainment offerings at The Palace of Dreams.
About The Charities
Star Schools - In collaboration with Star Schools, learners from Grades 10 to 12 are given extra lessons to help specifically with their Mathematics, Science and English classes.
Lesedi Programme – For over 10 years the Peermont Community Benefit Trust, a CSI initiative of Emperors Palace, has funded many deserving young people, from Ekurhuleni, that they may become economically active through the Lesedi Programme teaching trade skills.
Peermont Education Trust Bursaries - The Peermont Education Trust is one of the BBBEE vehicles created by Emperors Palace to serve the community of the Ekurhuleni.
Emperors Palace Chambers of Commerce Trust - The Chambers of Commmerce Trust is one of the BBBEE vehicles created by Emperors Palace to develop local entrepreneurs and businesses in Ekurhuleni.
Titans Sky Blues Trust – Named for the colours of the Titans Cricket Team, the Trust has been set up to assist a range of aspiring cricketers to get options beyond the game. From women cricketers, youth, differently abled players and players in various kind, the Trust seeks to empower them and open educational doors for them.
Animal Allies Rescue - Animal Allies is a registered Non-Profit Organisation which has sterilized, vaccinated and dewormed over 11702 dogs and cats and assists in curbing the overpopulation crisis.
Animal Anti-Cruelty League - The Animal Anti-Cruelty League (AACL), has been protecting and caring for animals since 1956. It is South Africa's second largest independent Animal Welfare Organization, relying entirely on the generosity and goodwill of the animal-loving public for financial support.
National Horse Trust - The National Horse Trust was established in 1989 as the racing industry's own charity to assist and take care of abused and neglected Thoroughbreds
after their racing careers were over.
Highveld Horse Care Unit - The Highveld Horse Care Unit is the largest equine welfare organisation in South Africa. The organisation was established in 1991 and is involved in any matters relating to equine welfare.