Trust bursary an ingredient to the rise of The Culinary Gangster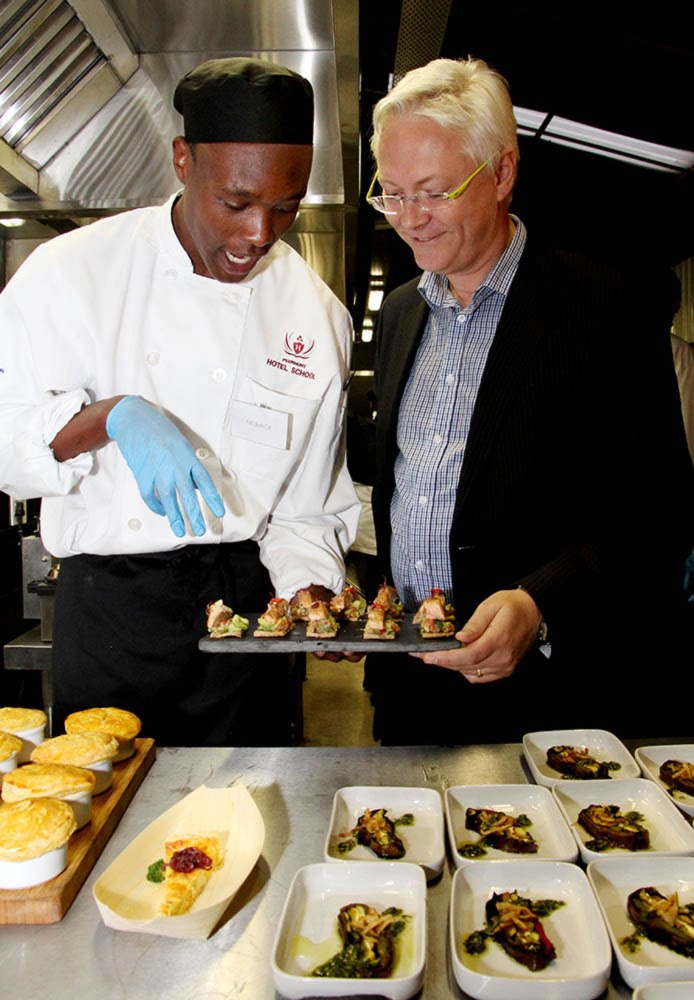 As a 15-year-old boy being brought up by his grandmother in a disadvantaged environment in an East Rand township, Meshack Mabuza's dream of becoming a chef and following a career in the hospitality industry seemed like a fantasy.
A few years later, as he prepares to celebrate his 22nd birthday on April 18, he is well on his way to making his dream of, "Making the World Taste Great" a reality, thanks to the Peermont Community Benefit Trust (PCBT), a CSI initiative of Emperors Palace and his own hard work, tenacity, perseverance, not to mention culinary talent!
It hasn't all been plain sailing for the youngster however, as after matriculating from Ponelopele Oracle Secondary School in Tembisa in 2014, he was necessitated to work in a national chain store's warehouse in Centurion as there was no money for him to follow a tertiary education. A move to become a call centre agent followed putting his culinary aspirations on hold.
In 2016 however, his life was set to change course when the PCBT, in partnership with the City of Ekurhuleni, established the Peermont Hotel School (PHS) at Emperors Palace.
Aimed at less fortunate youngsters from Ekurhuleni, who have their sights set on becoming chefs, waitrons or housekeepers the school offered a 12-month fully-funded learnerships to 72 deserving youngsters when it opened its doors in May 2016. (The PCBT has since provided 1114 learners with fully-funded sponsorships to the school)Among the fortunate learnership recipients of the Class of 2016 was a thrilled Mabuza who had been accepted into the chef's programme starting his journey to realising his dream and become known by colleagues as "The Culinary Gangster".
"When I received the news I was going to the hotel school I couldn't believe it, it was one of the best days of my life!" says Mabuza who adds, "the PHS created a platform for me to make my mark as a young chef in this industry with proper guidance and basic education. It (the school) also gave me all the tools I needed to make it to where I am now, I'm just so grateful."He quickly became one of the stars in the programme and after completing his theoretical training course under the guidance of Chef Lehan Botha of Celo, the accredited training provider for the PHS, Mabuza moved onto his practical training, which is part of the programme, in the kitchens of Emperors Palace helping him gain much needed experience.
On graduating among the top students in his class Mabuza didn't let grass grow under his feet and he boldly approached "My Kitchen Rules SA" judge Chef David Higgs for a job at the latter's well-known Marble Restaurant in Johannesburg.
Much to his (Mabuza's) delight, Higgs gave him a chance enabling the youngster  to work and learn alongside one of the best-known chefs in the country.
It wasn't always easy for Mabuza in the beginning as he often worked the late-shift at Marble finishing work at about 23h00 or later.
With transport back to Tembisa from Johannesburg not easily available at that late hour Mabuza showed his determination to succeed and spent many a night sleeping after his shift at a nearby garage before being able to get a train back home early in the morning.
His tenacity and single mindedness to prosper has stood him in good stead  consequently earning him the position of Chef de partie at Higg's new trendy Saint Restaurant in Sandton.
Speaking about his time working with Chef Higgs Mabuza comments, "He has taught me how to be an old school professional chef, from respecting my ingredients to mastering flavour combinations and creating great tasting, delicious food.
"When he moved me to Saint Restaurant as his Chef departie he started teaching me Italian cuisine and I'm still looking forward to learning from him because he has been my role model from inception."
Not resting on his laurels Mabuza has plans to pursue a tertiary education in the hospitality and tourism field while he sets new goals and bigger dreams like one day owning his own restaurant and preparing culinary delights for VIP clientele.
"Meshack is a walking example of what can be achieved with talent, hard work a touch of chutzpah and the help of a fully-funded learnership from Emperors Palace's PCBT to attend the Peermont Hotel School.
"What he has achieved from such humble beginnings in such a short time just proves if you can dream it, you can do it, with a little help from the PHS" says the Trust's Manager, Jenny Findlay.
Tomorrow doesn't have to be a gamble so other aspiring chefs, who want to try and follow in Mabuza's footsteps, can download the PHS application form from www.peermonthotelschool.co.za, comply with the application criteria and complete and submit the forms, with all the relevant documentation to info@peermonthotelschool.co.za
BELOW: Chef de partie at the trendy Saint Restaurant in Johannesburg, Meshack Mabuza pictured here when he started his culinary journey as a student at the Peermont Hotel School in 2016, with Peermont CEO, Nigel Atherton.