Emperors Palace launches a poker room worthy of a royal flush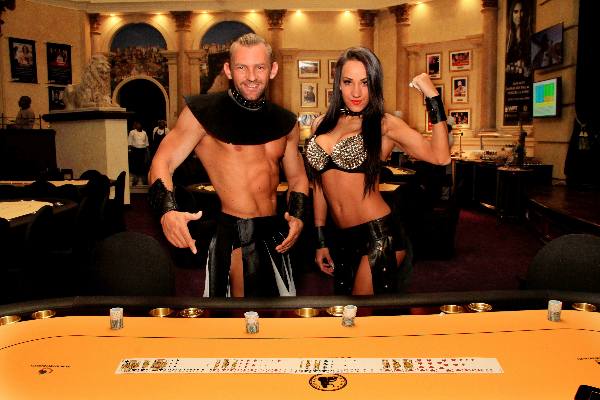 Thursday, July 2, 2015
The venue stylishly comprises of an inner room distinctly furnished with 11 poker tables in a quiet, smoke-free environment and will be home to some of the best poker tournaments. Not only does the Gladiators Poker Room offer an authentic gaming experience in a private and secure environment, but it will exclusively host Omaha tournaments. For beginners and those who want to hone their skills, the Gladiators Poker Room offers poker tutorials and for those more experienced, the new gaming abode offers high limits on request for cash games. Emperors Palace has upped the ante with a menu offering a variety of delicious snack items to choose from, or players can simply connect using the complimentary W-Fi of 500MB per day, per device. A welcome feature in the venue is WPT memorabilia adorning each wing and the eight plasma screens screening a variety of content, including sport.
"We are delighted to open a venue were gaming aficionados and enquiring minds alike, can come together and enjoy the thrill of pure poker entertainment. An authentic poker experience awaits both beginners and serious players, and I'm proud to say that the venue easily competes with some of the world's finest poker venues," comments Bob Yearham, Peermont Chief Operating Officer for Gaming.
Regular events in the Gladiators Poker Room include the Monday Night Free Roll at 19h30 where players enjoy free entry into the event. Poker players with true gaming grit are invited to enter the Tuesday Night Freeze Out at 19h30 with one re-entry. The Thursday Night Freeze Out at 19h30 operates according to the same principal, for a R2 500 entry.
As the name suggests, Ladies Nights Tournaments caters for the vixens of victory every Wednesday at 19h30 for a R300 buy-in. R500 secures a re-buy and there's also an add on option to buy more chips once late registration is over.
Omaha is a variation of poker where players get four cards each with five community cards. Each player must make a poker hand using two from their own hand and three from the table. Omaha tournaments are held on the first and last Friday of every month at 19h30. Buy-ins are R500, with R200 re-buy and a R300 add-on.
Bounty Tournaments are normal Texas Hold'em tournaments where certain players have a bounty on their head and whoever knocks them out wins the bounty. There is no limit to how many bounties a player can win and this exciting and very popular tournament takes place every second Friday at 19h00 with a R1 100 buy-in.
Entry into in the Saturday afternoon re-buy event is R600 with single re-buys available for a further R600 and double re-buys for R1 000. A R600 add-on is available at the end of the re-buy period.
The venue operates from 14h00 daily until the last hand is played.