Madison's Bistro and Family Restaurant opens its doors at Graceland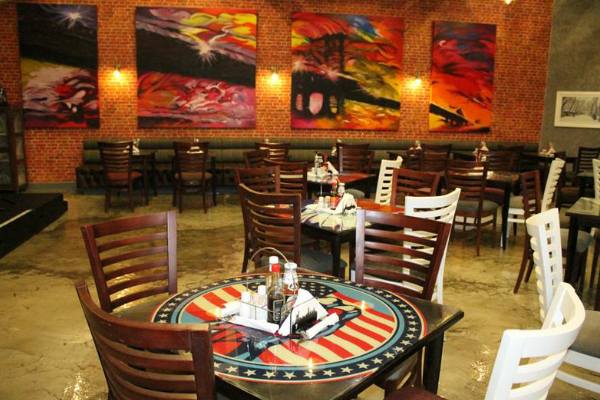 Tuesday, December 23, 2014
The magnificent and Colonial American themed Graceland Hotel Casino and Country Club in Secunda has completed a R10 million refurbishment project which now includes the addition of Madison's Bistro and Family Restaurant; a premier family restaurant that offers a New York loft-style dining experience to the Mpumalanga community.
Already operational, Madison's Bistro and Family Restaurant provides the finest rendezvous to socialize, celebrate and meet with friends, colleagues and business associates. The new interior décor of the restaurant is rustic with exposed walls and pipe fittings complimented by fabrics, luxury furniture, warm colours and tones. The steel and glass influences also contribute to the stylish space. The use of colours and lighting enhance and bring to life the décor finishes. The design of the menu is simplistic with leather bound covers and the descriptions are easy to read with vivid food images to create and enhance the visual appeal. Adding to the relaxed atmosphere is background music which is a mixture of New Orleans swing jazz and contemporary New York jazz sounds.
Madison's Bistro and Family Restaurant serves a variety of meals from scrumptious breakfasts, lunches and dinners to please every palate. The menu offers delectable choices and enticing fusions of dishes sourced from the glory of Colonial America paying tribute to the grand old age of the Deep South. Guests can look forward to a variety of meat dishes such as a Southern Fried Chicken, Pork Shank, Beef Ribs, Muscle Pot, BBQ Belly Cruncher, Pastas, Pizza, speciality Burgers and Sandwiches. Halloumi wrapped with Bacon and Jalapeno Peppers has proven to be a popular starter for customers. Those with a sweet tooth can enjoy a variety of desserts from American Pie of the day, Banana Split and homemade Carrot Cake. The meals are uniquely presented on wooden boards and slate tiles, colorful mugs and plates to create visual impact.
Those seeking to quench their thirst, the wine and beverage menu features multi-coloured drinks served in equally colourful glasses. Included in the drinks menu is a selection of cocktails, South African wines and a selection of fine spirits. For something different, one can order a selection of cold craft beers or signature cocktails and drinks such as American Spirit, Wild Mustang, The Pink Cadillac, California Ice Tea and, by far the most popular cocktail, Madison's Jam Jar.
Best of all, the restaurant also provides a relaxed family atmosphere where children can have as much fun as the folks with a dedicated children's entertainment area designed to stimulate the little ones while mom and dad can dine in harmony.
For reservations call (017) 620 1294 / 6.
For further information visit www.graceland.co.za or call (017) 620 1000, visit us on Facebook or follow us on Twitter@GracelandCasino