Emperors Palace Launches Game of Riches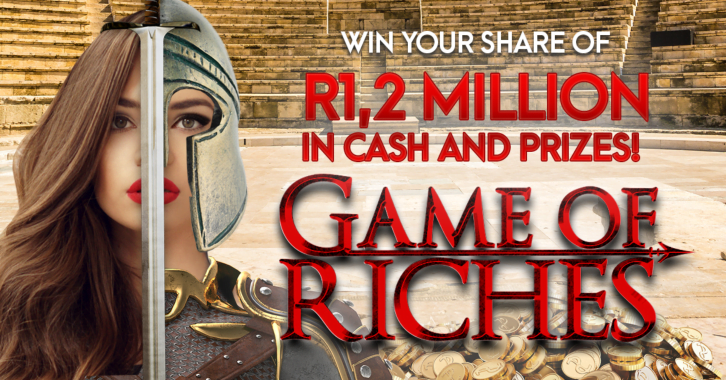 Thursday, April 1, 2021
The month of April sees Peermont's Emperors Palace issue a new challenge to players in the form of Game of Riches, a new leaderboard promotion allowing slots and tables players to battle it out for top spot. Running all the way until 30 June, the promotion will handsomely reward players with a share of R1,2 million in cash, FreePlay and an assortment of prizes, including a guaranteed luxury stay for the first place finishers.
'It was time to go back to our roots,' says Emperors Palace Promotions Manager Irvin Nkosi. 'And there is no better way than a good, old-fashioned Leaderboard Chase, where everyone has an equal chance of climbing to the top. It's like the gladiators of ancient Rome, fighting to be number one.'
Participating in the promotion is simple and requires participants to play either slots or table games with their Winners Circle Card. A live leaderboard will showcase the standings of the top 100 slots and tables players who will vie for the top spot. The victor in each category receives a guaranteed first prize of an Emperors Palace luxury experience valued at R150 000. The prize consists of a 2 night stay in the Presidential Suite at the 5-star D'oreale Grande Hotel, R80 000 in FreePlay for the weekend, and an assortment of meals and other extras.
'During these tough times, people just want to be pampered and take a break, and there's no better place to be treated like royalty than the Palace of Dreams,' teases Nkosi. 'And being able to spend two nights in the Presidential Suite in our five-star hotel is a one in a life time experience!'
Included in the promotion is two monthly draws where a share of R250 000 in Cash and Freeplay can be won amongst the top 100 qualifiers in each the slots and tables divisions. These draws will take place on 14 May and 18 June, with the grand final happening on 18 July. 'We're doubling things up for the final with R500 000 in Cash and Freeplay up for grabs to our top 100, plus we'll crown our first place finishers,' concludes Nkosi.
This promotion is exclusive to Winners Circle Members. Non-members can sign up at https://www.peermont.com/loyalty-rewards/winners-circle/join or download the app from the PlayStore or AppStore.
For more information on the COVID-19 health and safety protocols for Emperors Palace, visit https://bit.ly/2D1kWnH.  Emperors Palace is a Peermont resort. Visit www.emperorspalace.com and connect with us on Facebook, Twitter, Instagram, LinkedIn and YouTube.
Emperors Palace Is A Peermont Resort Peermont Proudly Supports The National Responsible Gambling Programme Problem Gambling Toll-Free Help Line 0800 006 008. Players Must Be 18 Years Or Older. Winners Know When To Stop.