Peermont Celebrates Trust Graduates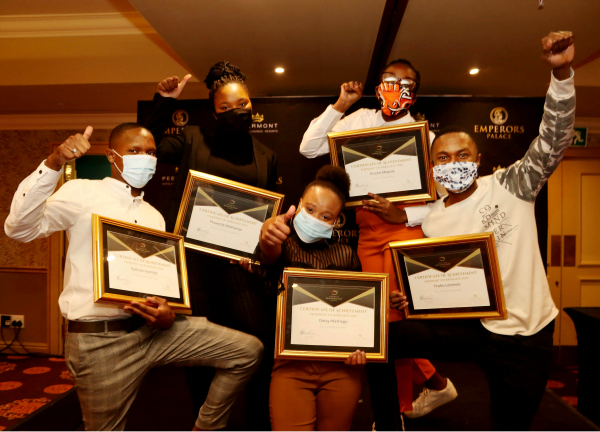 Saturday, May 1, 2021
Despite the challenging economic climate caused by COVID-19 Peermont's Corporate Social Investment (CSI) obligations remain focused on making a difference. 2020 proved difficult form many students, but the Education Trust bursary students demonstrated their mettle by completing their studies and graduating with degrees ranging from Accounting to Chemical engineering. The graduates were honoured at Peermont's Emperors Palace on 1 May at a luncheon to celebrate this milestone achievement.
'We're immensely proud of our graduates, ' says Emperors Palace Trust Administrator, Makomane Ntabo. 'Education is a very important thing to us, and to see these young people accomplish something so special is truly inspirational. I'm glad we could play our part in assisting them reach their goals.'
Peermont's Education Trust sponsors disadvantaged learners to study a variety of university courses, and finding employment in big-name firms. The PET provided the 5 2020 graduates with bursaries to assist them in achieving their desired career dreams at WITS and University of Johannesburg, and amongst the proud graduates were:
Phumzile Makhanya graduating with a Bachelor of Pharmacy (BPharm) degree from WITS.
Njabulo Nyembe graduating with a Mining Engineering (B. Eng) degree from WITS.
Thabo Letsholo  graduating with a BSc. Chemical Engineering degree from WITS.
Daisy Mashego graduating with a BSc. in Biological Science degree from WITS.
And Disebo Mapole graduating with a Bachelor of Accounting degree from UJ.
'Seeing young people overcome the odds and flourish during such unprecedented times is very admirable. It shows the determination of reaching your goals and that is why we have the trust, to make dreams come true and to inspire tomorrow's generation. Well done to their graduates. We'll be keeping an eye on their careers,' said PET Chairperson, Tshidi Madima, who delivered the keynote speech of the event.
Peermont prides itself on being a leader the local gaming industry, with a total of 11 operations in different locations (8 in South Africa and 3 in Botswana). Their purpose is to conduct business profitably, whilst fulfilling their obligation to improve the well-being of the communities in which each property operates. Despite the limitations in place they are proud to help where they can during uncertain times.