Journey of a Young Leader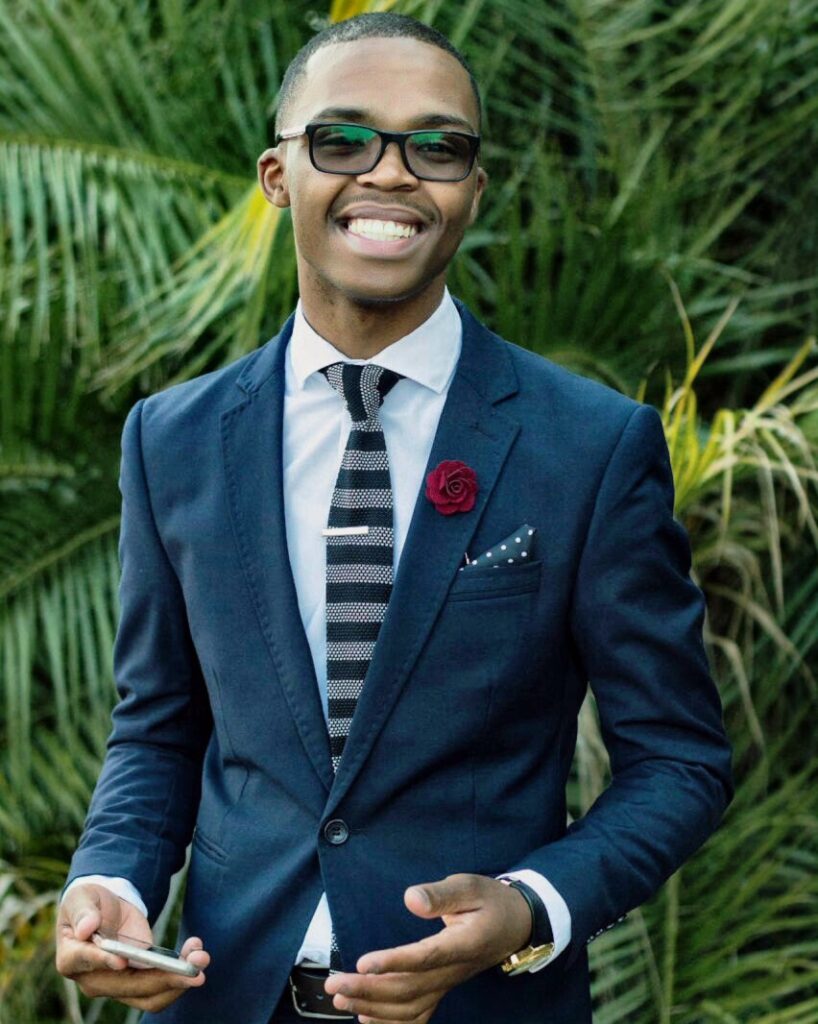 Sphesihle Nxumalo was born into a single-parent household and lost his mother at a very tender age. He went on to do his primary school and Form 1 education in Swaziland. In Form 1, Sphesihle performed exceptionally well that he was chosen to represent his school at the national academic competitions and came in the top 3. Sphesihle moved back to Johannesburg and completed his high school studies in Daveyton, Ekurhuleni. He was an exceptional learner throughout high school, evident through the numerous academic awards he has received.
Sphesihle completed his matric at Dr Harry Gwala Secondary School, achieving 6 distinctions and becoming one of the top 10 outstanding learners in the Gauteng East District – for which he was recognised at the Gauteng East Department of Education awards in 2012. This was the greatest turning point in his life as he received a scholarship from the Gauteng City Region Academy in partnership with the Skills Education Training Authority as well as from the University of the Witwatersrand (Wits University) to undertake his LL.B studies at Wits. In addition to this, he was awarded a Peermont Education Trust scholarship to complete his final year. He graduated in the top 10% of his LL.B class in 2016 and was awarded the Dean's List Merit Award.
Before completing his LL.B studies, Sphesihle interned in multiple law firms in Johannesburg. He was then signed by ENSafrica, Africa's largest and top-tier law firm to do his articles of clerkship with the firm, and subsequent to his articles, he was offered an Associate position with the firm. His work spans the entire spectrum of anti-trust/competition regulation in South Africa, from prohibited practices to merger regulation in various African jurisdictions. He is also an admitted attorney of the High Court of South Africa. He contributes frequently to local publications, including Business Law and Tax Review and the LexisNexis Butterworths' Anti-trust/Competition Law Reports – of which he is a contributing editor.
Over the years, Sphesihle has participated in constitutional, political and social discourses with highly-esteemed panels, including Judges and Parliament Ministers debating issues ranging from political activism, race, gender inequality to the land issue – issues that are at the centre of our vociferous constitutional debate.
In addition, Sphesihle served in several leadership structures at Wits University and was appointed as Lead Mentor by the Counselling and Careers Development Unit of Wits University as well as a Students' Legal Counsel (representing students facing disciplinary action before the Wits Students' Disciplinary Committee chaired by a Professor of Law). He has provided mentorship to many students who are now professionals making significant strides in their respective fields of work. Furthermore, he was a Tutor at Wits University – tutoring 3rd-year law students. He also tutored high school learners in Midrand on weekends as part of an initiative by a non-profit organisation called "IkamvaYouth".
Sphesihle was instrumental in the establishment of Kgololo Academy (which means "to set free") located in Alexandra, Johannesburg. He was part of the team working with The Khulula Foundation (a United States organisation) that conducted surveys and provided administrative assistance in making Kgololo Academy a reality.
Considering his visible social and leadership footprint, Sphesihle was nominated and chosen as one of News24's top 100 'Young Mandela's' (Young Leader) in South Africa under the "Leadership" category. This recognition aims to honour young leaders who dedicate efforts to make a difference in South Africa with the leadership, creativity, resilience, vision and compassion shown over time and, as such, embodying the spirit of Tata Madiba. As a top 100 'Young Mandela', Sphesihle will be working on a new youth-focused social impact project facilitated by Naspers, which seeks to leverage the power of technology to find solutions to some of the most pressing issues youth face in South Africa.
Sphesihle has indicated that there are other key projects in the pipelines that he will be working on. He says that he finds absolute fulfilment in serving communities and making an impact on the 'world' around him. Sphesihle views himself as a Firebrand Pan-Africanist, Liberal Meritocrat and a Progressive Constitutionalist. Without a doubt, the literary contributions he has made to different bodies in the country pertaining to the expropriation of land without compensation (made to the Constitutional Review Committee in his personal capacity), among other issues, locate him within these labels.
Sphesihle is very thankful to the Peermont Education Trust, and all the other institutions responsible for his successes for all that he has been able to achieve so far. At just the age of 24 with his visible social and leadership footprint, Sphesihle is certainly on an upward trajectory and is a young leader to watch.