PEERMONT HOTELS LAUNCH NEW HOTEL APP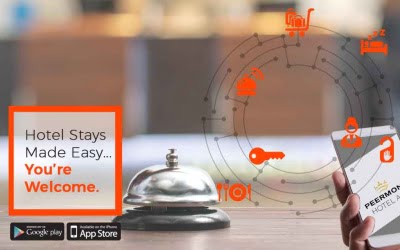 Monday, August 2, 2021
Peermont Hotels have partnered with INTELITY®, the developer of hospitality's most comprehensive guest experience and staff management platform, to launch the Peermont Hotel App. Starting with the 5-star D'oreale Grande Hotel at Emperors Palace and the Metcourt Hotel at Rio Casino in Klerksdorp, the app will roll out to incorporate all twelve Peermont properties. The INTELITY platform, includes a brand app, mobile check-in, mobile key, and staff technology in an innovative overhaul of their operations and guest experience.
One of Africa's top hospitality groups and an award-winning provider of exciting times and relaxing stays, Peermont offers guests unrivaled experiences and activities to suit every taste and style. Superbly located across South Africa and Botswana, the group's portfolio includes hotels, casinos, and resorts built to offer patrons relaxing stays and exciting times. Now, they'll foster both safety and satisfaction as they adopt contactless, mobile technology for guests and staff.
"Our guests are our most important asset, and we recognize the need to constantly improve their experience at our resorts," said Nigel Atherton, Chief Executive Officer of Peermont Resorts. "In the wake of COVID-19, giving guests mobile capabilities and offering contactless service is the best way to cater to their needs now and in the post-pandemic world. The Peermont Hotel App allows us to do that at every point in a guest's stay, wherever they are on property."
When preparing for their arrival at a Peermont property, guests will be able to download the app and check in from their own device, allowing them to skip the front desk as soon as they arrive, then use their phone as a room key for the duration of their stay. Throughout their stay, they'll be able to book activities, make reservations, order food, and more from their phones—whether they're in their room or on the casino floor, so they never miss a moment of entertainment. Then, when it's time to check out, they can simply view their folio, approve it, and tap to check out—leaving exactly as they came, with no unneeded contact.
"After the past year, guests simply won't settle for the pre-COVID experience," said Jeff Swanson, INTELITY Managing Director, EMEA. "We're tasked with developing a new normal to cater to them, and Peermont Resorts is once again leading the way in Africa—recognizing how guest and player needs have changed and seamlessly shifting to deliver the mobile convenience they're seeking."
Meanwhile, the INTELITY platform's suite of staff management tools, GEMS®, will help automate procedures and save valuable staff time. Deep business insights captured in the platform will give the team the tools and time they need to elevate service, respond to guest feedback in real time, and envision big-picture operational improvements. At the same time, the award-winning hospitality group will also be able to customize messaging and promotions for special events and groups, allowing unique opportunities to personalize the guest experience and connect their resorts and casinos, driving revenue and providing an unparalleled level of convenience to guests and players alike.
"INTELITY and Peermont Resorts have both demonstrated a deep commitment to innovation and collaboration in hospitality, and that's what makes this such a perfect match," said Gary Ernzsten, Owner at Nu Menu Solutions. "Today's guests are looking for more than a one-size-fits-all experience—they're looking for a stay that's tailored to them in every way. That's the guest experience of the future, and one INTELITY and Peermont Resorts can create together."
To find out more about Peermont Hotels, visit www.Peermont.com or download the Peermont Hotel App at the Google PlayStore (https://bit.ly/3hK6FfQ) or Apple App Store (https://apple.co/3jNTxbR)
About INTELITY
INTELITY is the global leader in contactless guest experience technology, uniting mobile, in-room, and operational tools into one fully-integrated hospitality platform. Built for the hotel, casino, and luxury residential markets, INTELITY has been named the "Official Mobile and In-Room Technology Provider" by the distinguished Forbes Travel Guide for five consecutive years and is in use at boutique properties, casino-resorts, and global hotel brands, including Marriott, Fairmont, Hard Rock, and more. For more information, visit www.intelity.com.
About Peermont
Peermont Hotels, Gaming and Resorts is an award-winning hospitality and entertainment company which operates 12 properties located across South Africa and Botswana. In South Africa: Emperors Palace Hotel Casino Convention and Entertainment Resort (Johannesburg), Graceland Hotel Casino and Country Club (Secunda), Frontier Inn & Casino (Bethlehem), Umfolozi Hotel Casino and Convention Resort (Empangeni), Rio Hotel Casino and Convention Resort (Klerksdorp), Khoroni Hotel Casino and Convention Resort (Thohoyandou), Mmabatho Palms Hotel Casino and Convention Resort (Mafikeng) and Thaba Moshate Hotel Casino and Convention Resort (Burgersfort). In Botswana: The Grand Palm Hotel Casino and Convention Resort, the Gaborone International Convention Centre and the Mondior Hotel (all in Gaborone), as well as the Metcourt Hotel and Sedibeng Casino in Francistown. Peermont also owns PlaceBet, an online sportsbook. For more information visit www.peermont.com.
About Nu Menu
Nu-Menu Solutions is the forerunner in the development of hospitality mobile and tablet applications for the African market. As official partners of INTELITY, the world's leading enterprise mobile solutions provider for the hospitality industry, Nu-Menu Solutions has set out to drive hotel and restaurant growth through mobile innovation. The hospitality industry is ever-evolving and Nu Menu Solutions is at the cutting edge. We exhaustively research and select the best hotel software and hardware from industry leaders worldwide to alleviate management headaches, improve communication and makes life easier for hotel owners and their guests. For more information, visit www.nu-menu.co.za.