The Gourmet Chariot - a food truck dream come true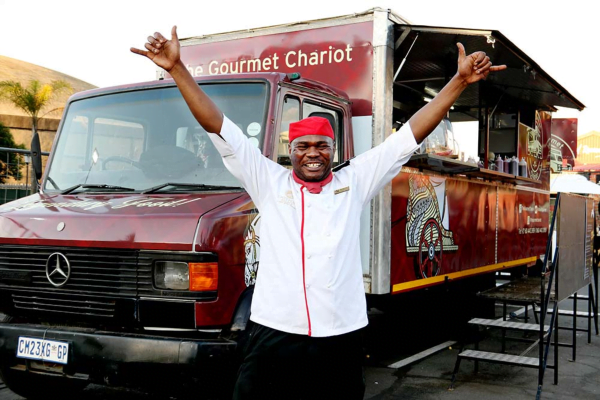 There aren't many people who find their true calling in their teenage years. While teens spend their time socialising with friends and not giving much thought to what they want out of life, Simon Mbelekwana – Chef De Partie at Emperors Palace and owner of The Gourmet Chariot food truck – spent his time in the kitchen, watching his mother prepare meals for their family of five, as well as the special Sunday lunches he remembers fondly.
It was these moments that inspired Chef Simon to pursue a career in the food industry, driving him to complete a Professional Chef course with the Royal Food Service in 2007. In the same year, he joined the four-star Peermont Mondior hotel at Emperors Palace in Johannesburg as Chef de Partie, and became a member of the South African Chefs Association the following year.
Chef Simon first realised his passion for the food truck business in 2014, when he would use his brother's mobile kitchen trailer to cook and sell food at food markets and festivals for extra cash. In 2015, he attended a street food festival with Chef Milton Romi-Babany, Complex Executive Chef at Emperors Palace, and immediately fell in love with the idea of owning his own food truck. "When I saw the set-up of fully equipped food trucks that day, I knew it was what I wanted to do. I wanted to own my own food truck," says Chef Simon. "I remember speaking to Chef Milton, asking him to help me acquire my own food truck, and Chef Milton always promised that someday I would get one myself and that I will own and operate it."
After applying for funding and showing the utmost determination to see his dream become a reality, Simon was offered a R500 000 enterprise development loan to purchase a fully-equipped, top-of-the-line food truck, bringing The Gourmet Chariot to life. Peermont's Emperors Palace also provided him with a further R20 000 grant to kick-start his business. He now operates a fully-fledged food truck business with four people in his employ, with hopes of giving some of the promising young students from the Peermont Hotel School the opportunity to join the business in the future.
The Peermont Hotel School offers ambitious and dynamic youth from the Ekurhuleni district the opportunity to apply for skills programmes and help kick-start their careers in the hospitality and tourism industries. These programmes are aimed at empowering previously disadvantaged youth with practical experience and knowledge into various important hospitality roles, including but not limited to the role of a chef.
"We want to fight unemployment, and we intend to work hand in hand with the school to help expose students to outdoor events, as well as creative and flexible food preparation plans during their in-service training," says Chef Simon.
Street food lovers can expect a range of tantalising dishes from The Gourmet Chariot's menu, including gourmet bacon-wrapped cheese grillers, must-try tacos, crispy French fries and loads more. For more information and bookings, contact 060 443 3959, email thegourmetchariot@gmail.com or visit www.facebook.com/thegourmetchariot.
Emperors Palace is a Peermont Resort. Visit www.emperorspalace.com or contact 011 928 1000. Follow Emperors Palace on Facebook and like us on Twitter @EmperorsPalace to keep up with the latest events and entertainment offerings at The Palace of Dreams.